Mind, Mouth and Page - Intro
Student: I've been reading Cor-SO
AG: COR-so
Student: Yeah. When he's doing the mind-jumps, is (he) leaving out parts?
Student: I've always wondered..are the jumps that he's taking a conscious flow? - or is he doing that unconsciously?
So I'll try and go through Corso's work, and then what would you like to do? I have some very definite ideas what I'd like to do, and, last session, I did them, like a block-buster, without stopping. So..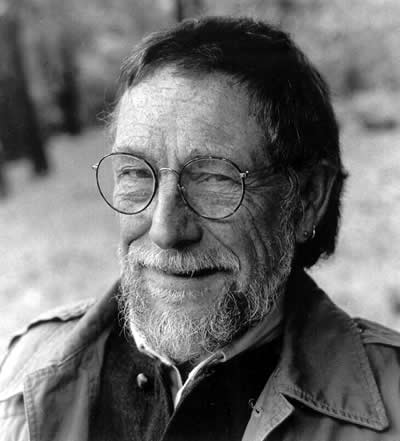 Can you hear me at the back?
Student: Not too well.
Student: Since you only spent ten minutes on (Walt) Whitman last time, could you...
Second thing - the last term I was new at teaching and didn't know about grading until the end, but I have to give grades, which means I'm going to have to familiarize myself with your poetic style. I'll try to grade not so much according to your learning but according to your brilliance - as poets. So, at the end of the term, a paper will be required, which is gists and piths of whatever either images or coherent ideas about poetics or fragments of poems that either you've composed or you liked, that turned you on definitely, but sharp fragments that turned you on, fragments of my language, or any language in the room. In other words, a short pithy summary of what went on or what was of interest to you that went on (in other words, you make a composition of that). It doesn't necessarily have to be a basic theme, just a collage of whatever entered your head and was rememberable. So you might get a notebook and keep a notebook for the course of your own writing. In fact, I assume you all have pencils and paper. If you're going to be involved in poetry the first thing you need is the materials of your trade. And my recommendation is you get a good solid notebook, not just a classbook. For the class, use a cheap old schoolbook, but for your own journals, or dream diaries, or perceptions, or pensees, or poems, or scribbled notes, or blues, or epic projects, the best thing I've found... well, I use a lot of different kinds and I didn't...yeah, I got it - always carry a notebook, a good one (but a bigger one than this [Allen shows his small-sized notebook] because this one reduces it to short lines, so I'd say slightly larger, if you can). These are called "record books" if you go into stationary stores - if you want them with lines (If you want them without lines, you figure out from an art store, there are those black cloth kind..the page (t)here is a little short, so if you have a longer breath, or if you're writing it in prose, it makes it a little difficult).
Actually, this is primary teaching - the materials. If you're going to practice writing, everybody's style is different but there is one practice which involves, like meditation, a continuous awareness, a continuous practice of poetry, which means that you always have to have a good pen, because pencil tends to get smudged. Unless, (for) the style of writing that you're doing, pencil is a little bit easier for you, if you want to wipe out a word. But I would propose an ink pen, because it's harder to erase, and so, once you write it down, you're stuck with it! (so you don't write anything frivolous and you don't let your attention lapse while writing, because you know it's always going to be there and you're going to go to your deathbed with that on your record, so therefore what you write has got to be true and non-bullshit and completely to the point, with your attention completely directed on the image, or subject. or tree, or foot, or big toe, that you're writing your big epic about. Yeah?
Student: Would you call (Corso's) "mad children of soda caps", "non-bullshit" writing?
Student: No
That may require a shoulder-bag to carry it in [Allen points to his own]- So I've had this for years, actually, of one variety or another of this, for at least fourteen years, because that way I always have a place for a notebook. But a large notebook like this [Allen displays the one he's using] is a little bit of an impediment because it's already like getting into technology and a weight on your shoulder, so it might be a good idea then to also have a little tiny notebook you can slip in your back pocket, or bosom, or purse, something to scribble notes on. And on the back of it (as on the back of this) you can put addresses and recipes (non-literary material). The front, keep clean and reserve just for inspiration, and if you find you don't know what to write to begin with, you can try waking up in the middle of the night and grab(bing) your notebook (which is by your bed-stand, where there is a lamp always, or a flashlight, and several pens and paper) and (start) writ(ing) down a dream that's just woken you up. And continue writing (down) dreams, keeping a record of dreams, if you're really seriously interested in exploring your own consciousness with writing and probe. Writing as a probe of your own mental activity, or as a reproduction of it, or some graph of the movement of it, or a record. So, yeah, Tom?
Student: How do you get around the problem with those bags? You put a pen in there and you get an idea to write something (and) you might find yourself spending a few minutes looking for the pen!
AG: Well, I generally wear a shirt which has room for a pen, or two..
Student: (Do) you keep a wallet?
AG: Usually, you keep an ink pen, as I suggested, and ink is really a solid thing, because it's a classic. It makes you feel more classic. And also, the felt-tip pens.. if you're a serious writer and you'll be selling your manuscripts to libraries and museums in twenty years, remember that felt-tip pens eat through the page in ten years. So if you want your immortal original manuscripts to be preserved, don't use a felt-tip pen, which has acid in it. Ball-point tends to scratch into the page and begin the page's decay. So a regular old-fashioned (fountain) pen, with unwashable ink, is actually about the best, particularly if you've got your notebook in your knapsack and you're fording a stream! - In other words, if you're writing, take it seriously enough to make a sacred ink out of it, and get some good materials, so it'll be solid for you. However the danger of having too good a notebook is (that) you'll get afraid to write in it. So it's good to vary that. After you've filled one really good notebook, get a cheap school copybook which you don't have to write immortal works in, and those usually produce the best poems! If you've had enough practice running through several notebooks, then it might not make any difference what kind of notebook you use. You can write down whatever you want in any notebook. One good principle is not to scratch out anything you've written but go on and write something else instead (not as an absolute rule, but as a general tendency), like, don't depend on another minute or another hour for the completion of your thought-emotion, because if anything's there, it'll be there right now when you're writing. So there's really, in some sense, no need to scratch out, once your mind is focused (but that requires, then, revising your mind).
Student: How about locks for paranoid poets?
Student: Read your notes, or..
AG: Oh well, my own experience of that is that if you're really writing well, then you won't want anyone to read it for at least 48 hours, or a week, or maybe a month at most - unless you have a family problem. My brother, actually, got into trouble this year, writing down about all his love affairs, apparently, and his wife found out because she read his notes. I usually am secretive about what's in my journals, but I got less and less secretive as time went on, and now, in the apprentice class that I have, I've been just sort of handing out my journals and people are writing down all my dirty dreams and most intimate secrets (which I've forgotten, since they're journals from 1968 so it doesn't matter anymore, they're old). But I'll be handing out my most recent notebook to one of the people in the apprentice class. I've thought about that, actually. Because of that temporary crisis (sic), I want to get all this stuff typed up that I'm working on, or that I just finished. This [Allen displays it] is a new notebook and I've got a great big one that I just finished about a week ago. And I thought (for) about three minutes - "do I really want to..?", "does it make any difference?". No, it doesn't make a difference. The one thing is, though, you'll find yourself a lot more free in writing if you do not keep it secret but have it secure so (that) people can't pry into it. And, at the same time, be generous, show it around, if it's interesting. But since most writing is raw and personal enough to be embarrassing in the immediate moment, even to the self, there is a difficulty to confessing to yourself or writing down to yourself what you're really thinking, frankly, because there's always a tendency to generalize, or to abstract, or to cover in one way or another, to censor it so that it does not pose a problem, actually. You've just got to use common sense, but keep it secret enough so that you can really put into it anything that comes into your head, without fear of the police. Yeah?
AG: Well, actually, I'm just beginning at the very beginning. We'll maybe get on. I've used tapes, cassette tapes, or Uher tape-machines (but only after years of practice on this, but there's no reason why one couldn't do that). The only trouble with the tape-machine is that you can't look at it immediately, and you can't check out what it looks like on the page, and it's ultimately.. unless there's the development of some kind of technological epic poetry, where the shaman-poet just utters and is played back before vast or tiny audiences. I think the standard thing wil probably (always) be writing down. Just because it's harder to check out a tape, harder to look it over and see what you just did or what you did last week. You've got to rummage among the tapes and find the spot, unless you're very prolific at indexing [Allen is, of course, referring to the old technologies here] - Have you used tapes?
Student: A little bit
AG: Yeah. It's a really good form, actually.
Student: It's a very embarrassing form!
AG: Yeah, "speak now or forever hold your peace"! [Allen continues] - So, I would keep a notebook for this class. Maybe just a school copybook finally, and keep your own.. because, what you'll be getting in this class is mostly other people's bullshit, or mine, but for your own secret golden scribblings, maybe get a good notebook and a good pen, or at least an ink pen (and a ball-point, in case you run out of ink - it's very handy to have both, because you'll always run out of ink at the greatest moment! - (This is) actually great practical instructions for how to be prepared to write instead of thinking about writing, and how to have the material handy, because it's just like jumping in the water. The inertial drag of not having paper and pen at hand is very often the reason that older writers don't write, much less people who are just playing around with it for the first ten years, or ten months, or ten days. So, obviously, what I was describing was my own practice, which is sort of a handy practice.
In that conversation, Creeley said that he couldn't write without a typewriter. And in the course of the conversation he discovered that the typewriter dictated the size and placement of his lines and the style of his writing, and becoming conscious of that, he actually started carrying a hand notebook, and the result was a whole book of Creeley's called "Notes", I think. Does anybody know that? Anybody know that? Does anybody know Creeley's writing?